Attorney Monique Maillet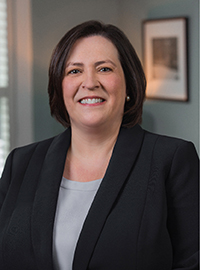 Attorney Maillet has been assisting families in the Worcester Probate and Family Court for over twenty years. Her litigation practice is primarily focused on divorce, custody, modification and contempt matters. The remainder of her practice is dedicated to mediating divorces for couples throughout Massachusetts.
Monique is often appointed by Justices of the Worcester Probate and Family Court to serve as Guardian Ad Litem in custody matters. She also serves as parenting coordinator, helping families in designing and implementing co-parenting plans.
Attorney Maillet is an active member of the Family Law Section of the Worcester County Bar Association and volunteers her time to them as a conciliator in highly contested divorce cases. She has been recognized for regularly participating in the Lawyer for the Day Program at the Worcester Probate and Family Court where she assists individuals with their family law issues.
Monique received her B.S. from the University of Massachusetts, graduating magna cum laude and obtained her J.D. from New England Law, where she received the CALI Excellence for the Future Award in the areas of Personal Income Taxation and Professional Responsibility. Monique obtained her mediation training through Divorce Mediation Training Associates.